Meet Dr. Marcia
I am a wellness-oriented doctor with a practice that includes babies, children, adults, and the elderly. I work with professional athletes and weekend warriors. I provide prenatal and postnatal care and specialize in the treatment of overweight and obese children and adults. I am an expert in extremity adjusting and have developed a successful protocol for the treatment of TMJ dysfunction.
I grew up in La Crosse, Wisconsin. A former high school and college athlete, I graduated from the University of Wisconsin – Eau Claire with a degree in Communicative Disorders.
After working as a Speech Clinician for a year in two small, northern Minnesota schools, I moved to Eden Prairie where my husband Mike and I, with our two children, opened our own telecommunications business.
As small business owners and parents of two growing, active and athletic children, there were plenty of opportunities to experience multiple injuries from life and the sport of the day. My family and I received chiropractic care for everything from sprains and strains to low back pain, scoliosis, headaches and more.
I recognized the healing power of chiropractic and its impact on my family's health. This safe and effective option of healthcare, as well as my ever-growing passion for helping people, inspired me to pursue a degree as a Doctor of Chiropractic from Northwestern Health Sciences University, located in Bloomington, Minnesota. I was 45 years old on the day I enrolled!
The passion that sparked my pursuit of a chiropractic degree is still growing. I am passionate about my practice and my patients' health and well-being. I provide specific strategies for optimal health through exercise and lifestyle counseling, nutrition, and chiropractic adjustments.
My adjustments are gentle, precise, and effective. They help improve posture, decrease pain, and increase motion and flexibility. No two patients are alike, so I provide innovative, individualized care with treatments that are all about "you". I look for the cause of your pain and use my hands and energy to facilitate balance throughout the body.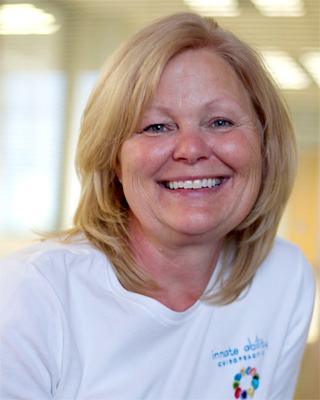 My Interests
Family activities, dogs (especially labs), golf, gardening, swimming, running, MN Gopher sports, cooking, attending concerts and the theatre, catering private parties with my daughter, and volunteering.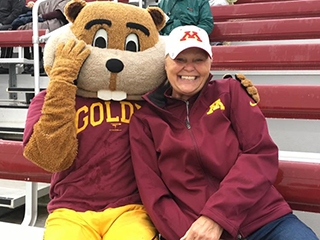 Memberships
MCA – Minnesota Chiropractic Association
Susan G. Komen 3-Day Medical Team Member
Obesity Action Coalition Member
DONA Birth Doula Training